Dual Systems Smoker/Convection Oven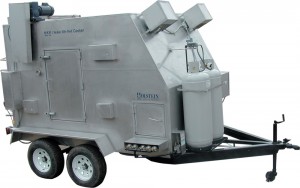 Chicken, Rib, & Beef cooker w/smoker
Portable Unit
Model 600 - With Smoker: $36,000.00
Model 600 - Without Internal Smoker & Two Circulating fans: $34,000.00

Standard Features
Oven Dimensions: 72" Wide x 120" Long x 72" High
Road Dimensions: 92" x Wide x 190" Long x 110" High
Weight: 6200 lbs.
Five individually controlled burner pipe
400,000 BTU's
32 removable racks

16 regular & 16 piggy-back
11½" Wide x 60" Long

Three warming tray racks. Holds 18 stainless steel warming pans
Heat tempered window
Double walled stainless steel with 2" insulation
Foot switch for forward or reverse rack rotation
Fold-away stainless steel rear prep table
Automatic hydraulic closing latches
Automatic thermostat & pilot light
One 1 HP electric motor
2" trailer hitch & heavy duty jack stand
Turn signals & brake lights with flat four-way plug
14" Tires
Units with Smokers
Tubular smoker with outside entry door and Wayne burner
Cooking Capabilities:
600 whole Chickens
210 slabs of pork ribs
1400 lbs. pork loin
1140 chicken quarters
700 ears of corn
1500 lbs. of beef
1100 hamburger
1140 pork chops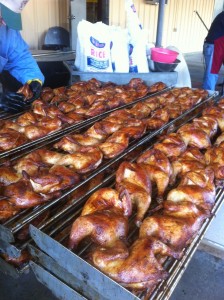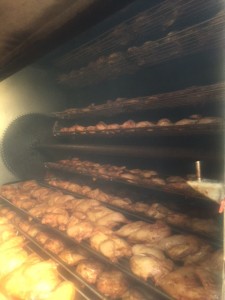 The Model 600 Chicken Rib & Beef Cooker has made our business grow from one model eleven years ago to six units today. The Model 600 has the capability of cooking 780 quarters of chickens on the racks and 320 quarters on the warming shelves for a total of 1140 quarters. This unit also has the capability of cooking 30 cases of 2 2/2 lbs. down size St. Louis style Ribs, 70 whole turkeys (weighing 15 lbs. each), 1,400 lbs. of pork loins, 960 Las Vegas Stuffed flounder, 240-6" pizzas, or 1,000 biscuits. I am also able to hold three whole hogs in the holding and warming section. The Model 600 has been the success of our business. Our business continues to grow and Holstein Manufacturing has provided us with reliable and durable products through the years.
Tom Perryman, Country Caterers, BBQ Inc.
Keystone Heights, Florida
Phone: 352-473-3728